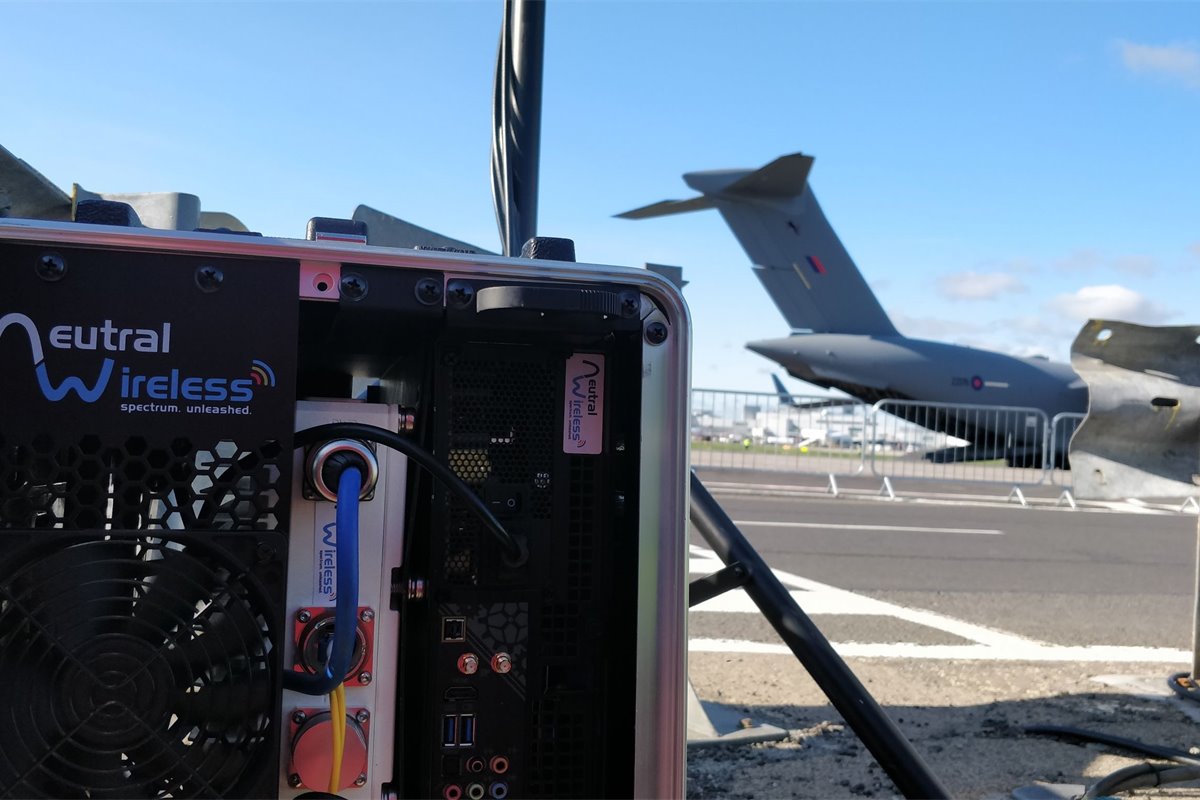 A world-first 'private 5G' network technology developed in Glasgow was used to broadcast the late Queen Elizabeth II's final departure from Scotland.  
The network, designed and deployed by the University of Strathclyde and its spin-out company, Neutral Wireless, was used to connect cameras for the worldwide broadcast of the event.  
The university and Glasgow-based outside broadcasting specialist QTV worked together to provide the international broadcast feed.  
'Operation Unicorn' – the codename for the plan for handling Her Late Majesty's death in Scotland – saw the Queen's coffin transported from Edinburgh Airport to RAF Northolt by air. This created the need for a high-definition, broadcast-capable, wireless solution that avoided hazards like cables running across the airport runway and guaranteed quality of service.  
<![CDATA[<![CDATA[]]]]>]]>
The historic pictures captured by the network and beamed worldwide included footage of the coffin being carried by personnel from The Queen's Colour Squadron, 63 Squadron, Royal Air Force Regiment and the RAF's C-17 Globemaster taking off and carrying Her Late Majesty to RAF Northolt in London.  
The 5G connectivity enables a range of cameras and other devices, in a wider range of locations, allowing for new creative and operational improvements to broadcasters. Neutral Wireless's pop-up 5G Stand Alone (SA) network, which is partially funded by the Scottish Government via the Scotland 5G Centre's Wave 1 Projects, was deployed for QTV within 24 hours of the spectrum license being granted by Ofcom.  
Scottish Government Business Minister Ivan McKee said: "The Scottish Government's £1.9m investment in the University of Strathclyde's 5G initiatives via the Scotland 5G Centre has made it possible for this historic occasion to be broadcast to millions of people around the world.  
"This demonstrates how new technology can help transform Scotland's economy and society, by enhancing our global competitiveness, facilitating business growth and driving innovation."  
Professor Bob Stewart, from the University of Strathclyde, who is head of the university's software-defined radio team, said: "The use of a dedicated 5G private network operating in the shared spectrum is believed to be a first for live TV news, broadcast using shared access radio spectrum.  
"The network operated live for nine hours with no reported interference due to our network and we were honoured and humbled to be able to play a part at such an important moment."  
Gareth Gordon, CTO at QTV, said: "From the band of the Royal Regiment of Scotland to the RAF's C-17 Globemaster taking off and carrying Her Late Majesty the Queen from Scotland for the last time, these were breath-taking live pictures broadcast globally from the airport tarmac. The video link on the 5G network wasn't there as a backup – it was a live feed to the world."    
Julie Snell, chair of the Scotland 5G Centre board, said: "It is great to see the technology and know-how engineered and tested in Scotland on the Scotland 5G rural Wave 1 testbed projects come to international prominence right after the successful IBC middle of nowhere demonstrations in four countries."
 
Holyrood Newsletters
Holyrood provides comprehensive coverage of Scottish politics, offering award-winning reporting and analysis: Subscribe